| | |
| --- | --- |
| | PLUTO ANNIVERSARY COUNTDOWN SPECIAL EVENT |
The Northern Arizona DX Association is conducting a 10-year special event countdown to the 100th anniversary of the discovery of Pluto by Clyde Tombaugh at Lowell Observatory in Flagstaff, Arizona. This will be an annual 9 day event held each February through the 2030 anniversary with the inaugural event
February 13-21, 2021 (UTC)

. Subsequently, the event will start on the last Saturday (UTC) before February 18th of each year.
Club members will be operating from Lowell Observatory and their home QTHs using the special event callsign W7P. Each year of the countdown will feature a new QSL card with subjects centered around either Clyde Tombaugh, his discovery, the moons of Pluto, some of his early telescopes, lenses used, etc, with lots of great information.
A beautiful 8"x10" color certificate suitable for framing, with endorsement stickers for each year worked during the event, is available.
Each year Doug Tombaugh (N3PDT), Clyde Tombaugh's nephew, will be operating during the event as W7P/0 and a contact with him counts as an additional endorsement on the certificate. Each year a contact with Doug or his small team can be used as an annual contact but also can be used as a wild card to fill in any missing annual endorsement that may be needed. This will allow a clean-sweep in the 10-year event even with a missed year!
Club members will be operating on as many bands and modes as time and conditions permit.
Watch for us as W7P and W7P/0 every February, join in the fun, and learn a lot about Pluto.

1.
OBJECTIVE

–
Work the W7P or W7P/0 Pluto Anniversary calls every year for a 10-year "Clean Sweep"
2.
ANNUAL SPECIAL EVENT CONTEST DATE/TIME

–
Beginning each year in February on the last UTC Saturday before the 18th at 0000 UTC (5PM MST) and ending 9 days later on Sunday evening at 2359 UTC (4:59PM MST).

| | |
| --- | --- |
| UTC DATES | Countdown |
| 13-21 February, 2021 | 91st Anniversary |
| 12-20 February, 2022 | 92nd Anniversary |
| 11-19 February, 2023 | 93rd Anniversary |
| 10-18 February, 2024 | 94th Anniversary |
| 15-23 February, 2025 | 95th Anniversary |
| 14-22 February, 2026 | 96th Anniversary |
| 13-21 February, 2027 | 97th Anniversary |
| 12-20 February, 2028 | 98th Anniversary |
| 10-18 February, 2029 | 99th Anniversary |
| 16-24 February, 2030 | 100th Anniversary |
3.
BANDS AND MODES

– All amateur bands and modes are acceptable.
Planned center frequencies: 14.290 21.290 7.290 14.090 Activating stations will be self-spotting on dxsummit.fi
4.
CONTACT EXCHANGE

–
Record call sign, name, signal report, and 2-letter U.S. State or Canadian Province/Territory code. DX stations substitute ARRL country code.
5.
POWER LEVELS

– Any legal power level is permitted.
6.
AWARDS

–
An 8"x10" color glossy Ten-Year W7P Pluto Certificate, suitable for framing, is available.
A QSL card for contacts with W7P/0 with a 'Wild Card' sticker for the event certificate is available.
Also available each year will be a different interesting W7P QSL card and an annual endorsement sticker for the event certificate.

For more information, contact our Pluto Anniversary Countdown event coordinator at w7p@nadxa.com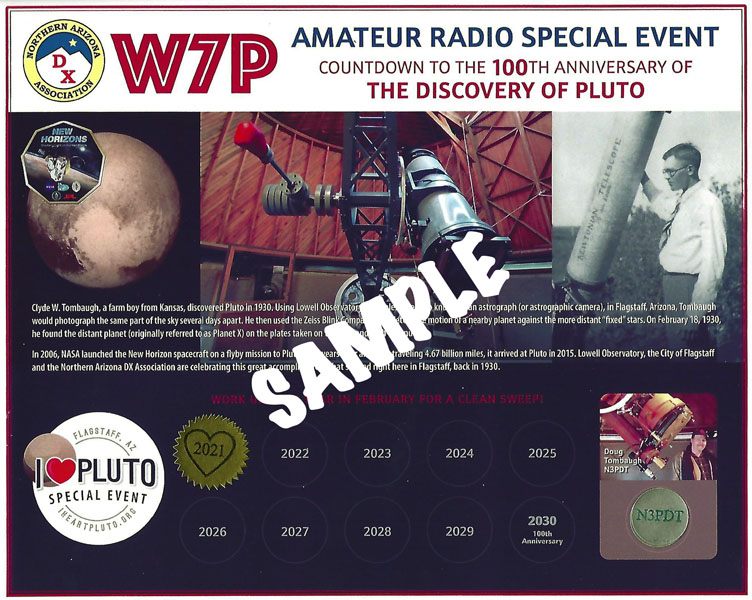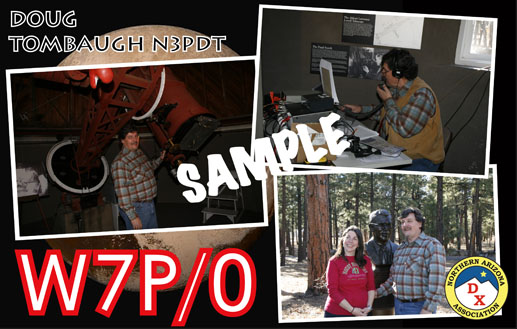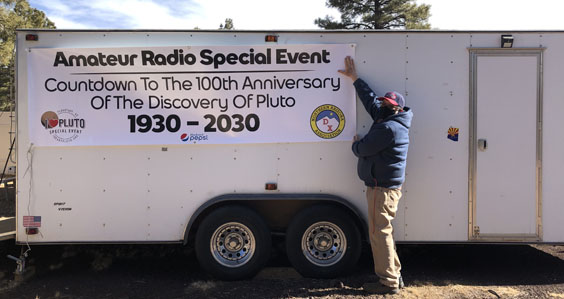 Getting the club trailer ready to operate at Lowell Observatory.
WB7EUJ worked with Flagstaff Pepsi to donate the banner!