The Northern Arizona DX Associatio will be participating in Flagstaff, Arizona's 2019 "Lunar Legacy" celebration.
2019 will be the 50th anniversary of landing men on the moon and Flagstaff played an important roll in that event because "Every astronaut that stepped on the moon, trained in Flagstaff and the surrounding area."
We will join in the celebration and hold Lunar Legacy Special Events throughout the year, including operating from those training locations like Lowell Observatory, where the astronauts used the 24" Clark Telescope to study the moon. Here, they worked with NASA and the USGS looking for and mapping potential moon landing sites.
Also, we will be at Sunset Crater just outside FLagstaff where they have volcanic cinder hills. Here, dynamite was used to create craters and make a replica of two of the possible moon landing sites. Then they brought in the lunar rover for the astronauts to drive and get a feel for what it might be like on the moon.
Another place the the astronauts trained was at Meteor Crater, Arizona. During 2019, our club (NADXA) will set up and operate from this mile-ide crater, again where the astronauts trained. According to Dwayne Vigant, general manager of Meteor Crater National Landmark, it was here that the astronauts had an early wardrobe malfunction when the men tore holes in theeir space suits on some of the crater's rocks, which required NASA to redesign their space suits.
Then the astronauts visited the Grand Canyon to study the geologic formations to prepare for the moon visits. We will be setting up operations at the GC National Park sometime during the year. One of our NADXA members, WW4A, who lives and works at the GC Park will cordinate this event.
Look for our Lunar Legacy special event call during 2019 while we operate from Lowell Observatory, Sunset Crater National Monument, Meteor Crater National Natural Landmark, and Grand Canyon National Park. We will ahve a special QSL cards made up for the event. Also, an optional high quality certificate with memorable Lunar Legacy photos and information will be availablefor a small fee. Both of these will look great on your wall!!
We sure hope to work you during the Lunar Legacy event!
QSLs are available from each of the four stations we will operate.  Send your QSL and a SASE or $2 to:

LL QSL Manager, NT7MM
PO Box 3840
Flagstaff, AZ 86004
Lunar Legacy Certificates, suitable for framing, are also available.  Send your request along with your QSL and $5 to the above address.
OPERATING SCHEDULES
K7S - Sunset Crater National Monument/Cinder Lakes
March 16th thru 30th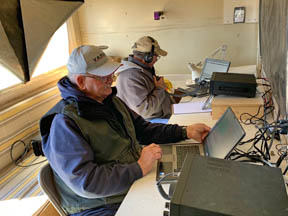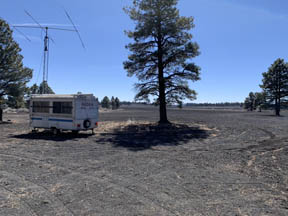 Bob NF7E and Mickey WW4MM Working SSB & FT8 in club trailer at Cinder Lake
K7M - Meteor Crater National Natural Landmark
March 30th thru April 13th
April 22nd thru May 3rd
K7O - Lowell Observatory
July 20th thru August 3rd
K7C - Grand Canyon National Park
August 24th thru September 1st